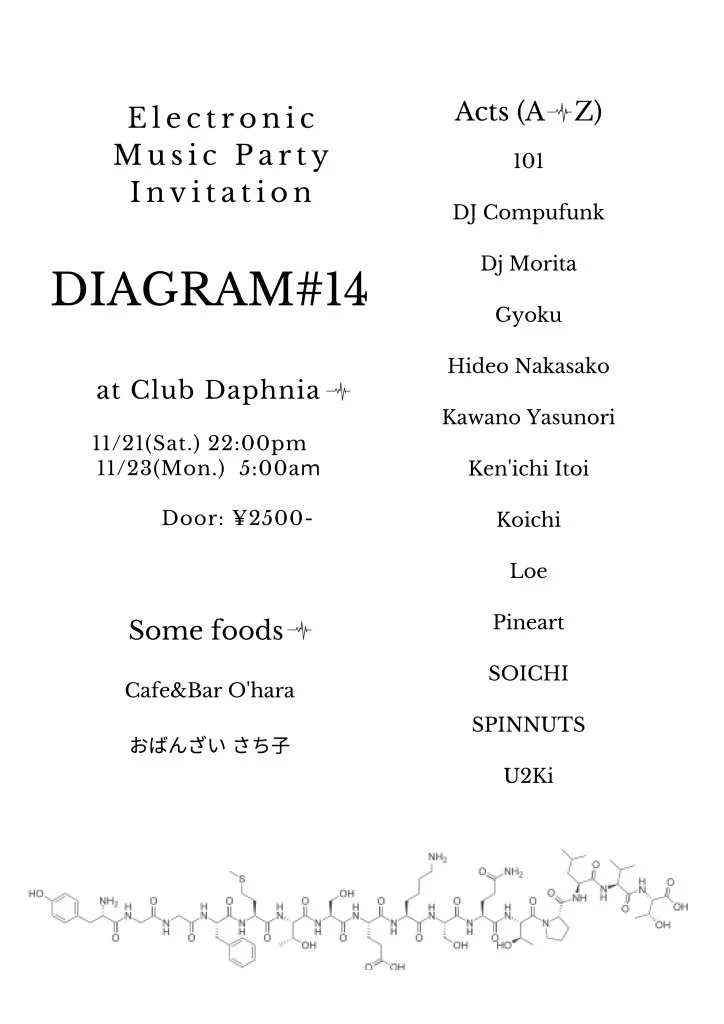 Diagram #14
Date:2020-11-22(SUN)
Open:
Charge: 2500yen
101
DJ Compufunk (Compufunk Records)
Dj Morita (Memories Of The Future/Diagram)
Gyoku
Hideo Nakasako (Butte/Muzan editions)
Kawano Yasunori (Transit Record Kyoto)
Ken'ichi Itoi (Shrine.jp/MYTH)
Koichi (Connected Underground/Equalize)
Loe (WOLS/SPECTRUM)
Pineart (MOT/Night Safari)
SOICHI
SPINNUTS (MODULATION NOW!)
U2Ki (Tong/Diagram)
いつまでもそこで楽しめるような質の高い音楽空間を演出することを目的とし、多くのファンから好評を得ているDiagramが、11/21-11/23にかけての週末の間、大阪・北加賀谷にあるベニューClub Daphniaにて"Diagram#14"を開催する。
前回同様、ウイルスに可能な限りの対策を取り、約30時間行われる予定となっており、関西をベースに精力的に活動する馴染みのDj、Liveアクトを織り交ぜたラインナップを発表した。
一度エントランスに入るとその後の再入場は自由となっているため、自分のスケジュールに合わせた幅広い楽しみ方もできる。
中ではフードの提供などもされており、さまざまな時間帯に音楽に浸りながら週末を過ごすことも可能となっている。豊かな体験を共に享受できることだろう。
Diagram#14は2020/11/21(土)22:00からのオープンとなっている。
[ENG.]
Diagram will hold its event in Osaka's new-establish Club Daphnia from Saturday 21st to 23rd of November.
Live acts and DJs are coming in. They remain their style because they believe their style of music has something natural.
They want to share anything about all of the cultures and they keep pushing their personal production.
Synthesizers roaming like you never felt it before, sequencing in some illogical constructions, sound design, and recording mixed with DJ and LIVE sets.
This party will take you on a journey through a new experience. If you're looking for an inspiring by hi-quality Techno and House music, coming over is one of the best choices for into you.
※They are going to take all possible measures against the virus.