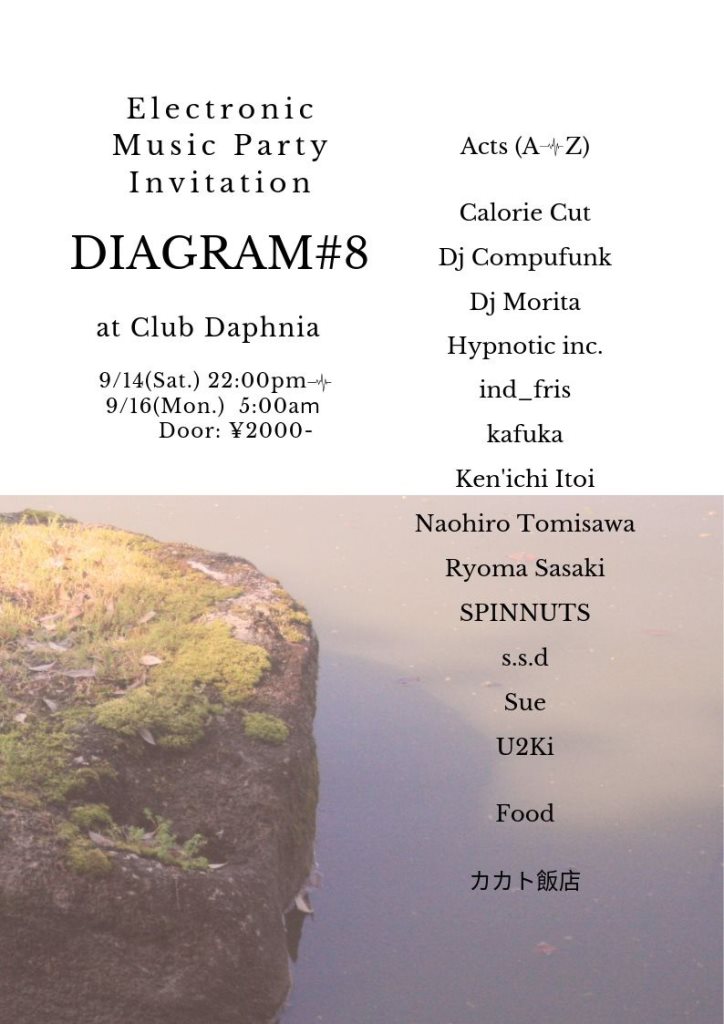 DIAGRAM #8
Date:2019-09-14(SAT)
Open: 22:00
Charge: ¥2000
Acts (A-Z)
Calorie Cut
DJ Compufunk (Compufunk Record)
Dj Morita (Memories Of The Future/Diagram)
Hypnotic inc.
ind_fris
kafuka (Laatry/Project:Mooncircle)
Ken'ichi Itoi (Shrine.jp/MYTH)
Naohiro Tomisawa aka PFG (Diagram, IIVII)
Ryoma Sasaki (Transit Record Kyoto)
SPINNUTS (Modulation Now!)
s.s.d
Sue (City Boy Lounge)
U2Ki (Tong/Diagram)

Food
カカト飯店
いつまでもそこで楽しめるような、質の高い音楽空間を演出することを目的とし、早耳な音楽ファンたちの間で好評を得ているNaohiro Tomisawa主宰のDiagramが、9/14-9/16にかけての週末の間、北加賀屋に誕生した新しいベニューClub Daphniaにて"Diagram#8"を開催する。

前回Club Daphniaにて行われた7/13-7/15の週末に引き続き、約30時間のあいだノンストップで行われる予定となっており、日本を中心に精力的に活動するdjとLiveアクトを織り交ぜたラインナップを発表した。

一度エントランスに入るとその後の再入場は自由となっており、(近くの入浴施設がおすすめ!)自分のスケジュールに合わせた幅広い楽しみ方もできると同時に、施設内ではフードの提供などもされているため、さまざまな時間帯に音楽に浸りながら週末をずっと過ごすことも可能となっており、新しい体験や出会いを共に享受できることだろう。

Diagram#8は9/14(土)22:00~となっている。

[ENG.]

Diagram will hold its second event in Osaka's New-established Club Daphnia from Saturday 14th to 16th of September.

Live acts and DJs coming in. They remain their style because they believe their style of music has something natural.

They want to share anything about music culture and they keep pushing their personal production.

Synthesizers roaming like you never felt it before, sequencing in some illogical constructions, sound design, and recording mixed with DJ and LIVE sets.

This party will take you on a journey through a new experience. If you're looking for an inspiring by hi-quality Techno and House music, coming over is one of the best choices for into you.