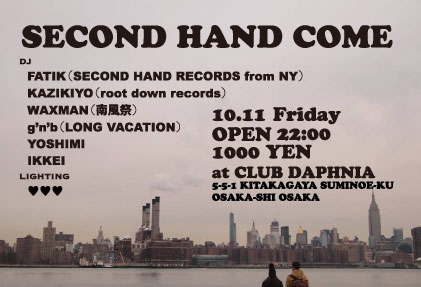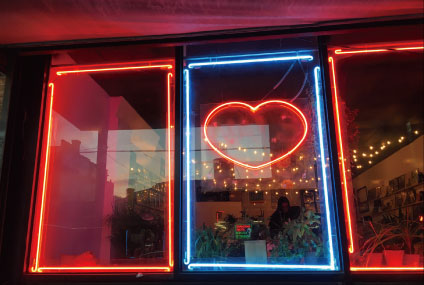 SECOND HAND COME
Date:2019-10-11(FRI)
Open: 22:00
Charge: 1000yen
DJ

FATIK (SECOND HAND RECORDS from NY)

KAZIKIYO (root down records)

WAXMAN (南風祭)

g'n'b (LONG VACATION)

YOSHIMI

IKKEI



LIGHTING

❤︎❤︎❤︎

NY、BrooklynはBushwickにあるレコード店「SECOND HAND RECORDS」オーナーのFatikが来阪。自身もDJとしてNYで活躍するFatikが、大阪ローカルのDJ達とニューべニューCLUB Daphniaを良音で満たす夜。
Brooklyn仕込みのgrooveにあなたの腰も自然と動く!
Fatikは、レコード屋、つまり人々と直接出会える空間において、彼の探究心をくすぐり続け、敬愛し続けている音楽を世に広めるべく、Second Hand Recordsを3年前に立ち上げることとなった。
本来は、強力な社会調査のツールとして使用されるべきインターネットだが、我々のインターネットに対する依存, そしてそれが創り出してしまう、人々の関係性の希薄化などから、距離を置く必要性を感じたためだ。
また、社会環境において、"音楽とダンス"はごくごく基本的なものである。そして、それらが"口頭言語を必要としないコミュニケーション方法"であることへの理解を深めていくことで、音楽とダンスが社会へ及ぼす影響へ感謝の意を表する、という想いの元にFatikはSecond Hand Recordsを運営している。

DJ Fatik is coming to Japan.
He is a manager of "SECOND HAND RECORDS"at Bushwick Brooklyn.
He plays DJ well in NY.
And all of the local DJs in Osaka are skillful.
We will fulfill a lot of good music with Club Daphnia new venue at OSAKA.
There is no doubt that you cannnot stop dancing.
Having started Second Hand Records 3 years ago as a way for the music that he loved exploring to meet in a physical space.
Feeling the need to step away from our dependency of the internet & the disconnect it creates, instead using it as a powerful tool of socio-exploration.
Music & dancing in social setting are something so essential & one way to begin appreciating their effects is by replacing it with an understanding that some forms of communication do not present themselves in spoken language.