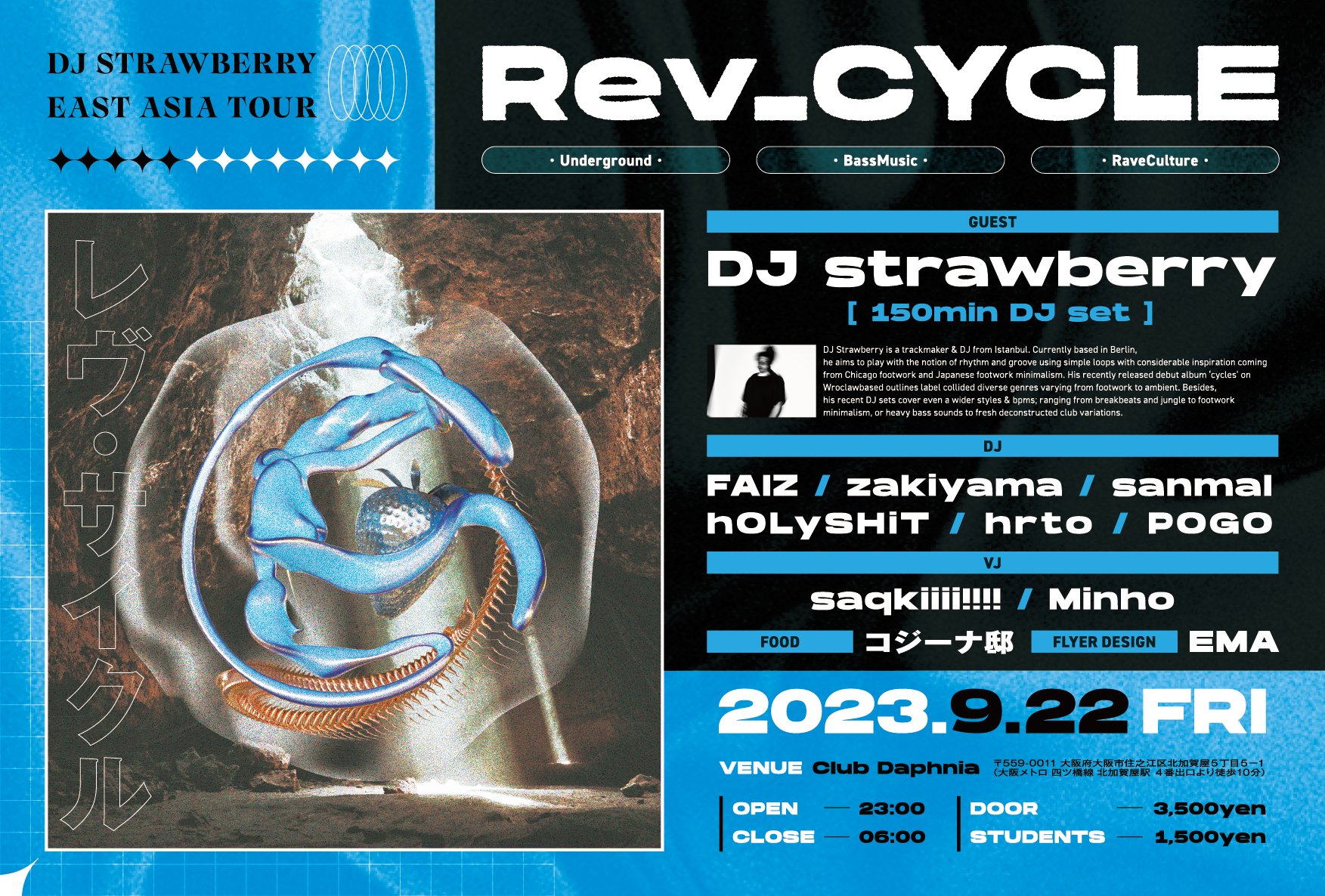 DJ Strawberry EAST ASIA TOUR #ReV_CYCLE
Date:2023-09-22(FRI)
Open: 23:00
Charge: Door 3500yen / Students 1500yen
DJ
DJ Strawberry[150min DJ SET]
FAIZ
zakiyama
sanmal
hOLySHiT
hrto
POGO
VJ
saqkiiii!!!!
Minho
Food
コジーナ邸
FlyerDesign
EMA
HKCR(HongKongCommuniyRadio)などでレジデントを務めているドイツ在住の音楽メディア論博士号の/ライター/DJ/トラックメイカーとして活動中の DJ Strawberry がEAST ASIA TOURとして来日!
日本のミニマルフットワークのムーブメントに大きな影響を受けている彼はJuke/FootworkやJungle,ときによってはBassからAmbientまで幅広いジャンルのプレイを得意としています。
彼のDJを150minロングセットで浴びることができるのはEAST ASIA TOUR中このパーティのみ!!
ローカルのDJ陣も主催のPOGOが絶大な信頼を置いている先輩方を大阪のみならず徳島や名古屋から招いています!
9/22(金晩)はClubDaphniaで最高の音を浴びましょう!
DJ Strawberry, a PhD in music media theory/writer/DJ/trackmaker living in Germany who has been a resident at HKCR (HongKongCommuniyRadio) and others, will come to Japan for the EAST ASIA TOUR!
Influenced by the minimal footwork movement in Japan, he plays a wide range of genres from Juke/Footwork, Jungle, Bass to Ambient.
This is the only party during the EAST ASIA TOUR where you can enjoy his 150min long set!
Local DJs are also invited from Tokushima and Nagoya as well as Osaka!
On 9/22 (Fri. Night), let's enjoy the best sound at Club Daphnia!